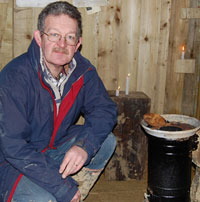 Andy Robertshaw is an independent military historian, writer, broadcaster, public speaker and director of Battlefield Partnerships Ltd. During his career Andrew has worked as Curator/Manager of The Royal Logistic Corps Museum in Deepcut. Prior to this he was Head of Education at The National Army Museum in London.

Andrew lectured to international audiences on many aspects of British military history including Leadership at the Staff College, Shrivenham, infantry history at the Infantry Training Centre, Catterick military medicine for the annual surgical course held in Norway. An Honorary lecturer at University College London and Honorary research fellow at the Centre for First World War studies at The University of Birmingham he is also a consultant to the Belgian Association for World War Archaeology on various aspects of the identification of Great War casualties. For the past fifteen years, Andy has been involved in conducting archaeological projects on the Western Front. He is the Honorary President of the archaeological group 'No Man's Land' which he helped establish.
Ryan Gearing, is the founder of Tommies Guides, a military publisher and bookseller, specialising in the publication of niche-market titles and supply of related product to museums such as those on the Western Front battlefields.
He works alongside historians and museums to research and develop new ideas and products often based on archive sources. He is a member of the Guild of Battlefield Guides and a graduate in the field of printing and publishing with a passion for military history, with over 15 years of experience in the book industry and touring the battlefields of France and Belgium.